The Saturday I spent in Salt Lake City doing fashion photography with my class a few weeks ago was so fun that I wanted to post some of the photos I took of  the whole group! Our fashion models looked so amazing that they even make this drab car lot background look good! This photo was taken at the Salt Lake Scooter Co. hence all of the awesome scooter they are posing with! It was in the early afternoon when I snapped this photo so it was very sunny outside!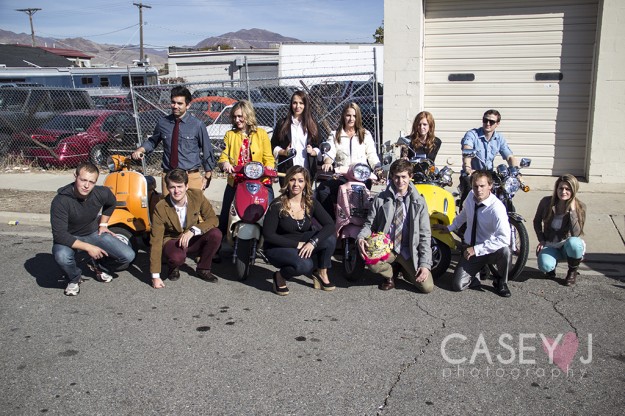 For the next several photos we were at Gardner Village in Salt Lake. It was dusk…and getting dark. So, we had an Apollo Orb set up. The lighting that you get with the apollo orb is so perfect! You can't even tell in these photos that there is a flash! Because the orb has a screen on it, the light diffuses and is so flattering. The light is beautiful and they are not hard to set up or all that expensive. As you can see below, I had all of the fashion models pose together and then I did a few subgroups, the couples, the guys and the girls. Group portraits can be hard to organize but I feel like these groups and subgroups turned out nicely. That's what happens when you work with beautiful people! :)
Of course, we ended the day by getting a big group shot of all us photographers! Such a fun group! It really has been a privileged to work with them and with our wonderful models.